Foxtel Installation in Perth

We provide Foxtel dish installations for residential properties, as well as services to builders for commercial MATV distribution systems to suit apartments, hotels and new developments.
Are you having Foxtel reception problems? Let Antenna Direct inspect your dish and system to ensure you are getting the best signal possible. We are able to track the fault down, in order to ensure your Foxtel installation is performing well. Even the smallest of faults in the system can affect the quality of your picture. We also provide Foxtel dish installations and extra outlets.

Commercial Foxtel installations
We have the capacity to provide Foxtel and free to air installations for commercial multi dwelling units and apartments on any scale.  We design and install distribution networks to suit every type of construction and take care of Foxtel approval throughout the whole process with strict focus on standards.
The end result is a fully operational MATV System with Foxtel and free to air distribution to every outlet in apartments and multi dwelling units, with the option of streaming in house content as a TV channel.  Our commercial installations come with priority after sales support.  With a growing portfolio of installations in Perth, we are the choice of many developers and builders.  Contact us for a no obligation estimate today.
Multi-room solutions
If you're tired of the same old television channels in your rooms, you can expand your channel selection with our multi room solutions allowing you to distribute your Foxtel picture to another room, outdoor area, or around your entire home to any room that has a TV Point.
Antenna Direct is able to provide Foxtel multi-room solutions, allowing you to distribute your Foxtel picture all around the house –ensuring that you view your favourite programs anywhere. Whether you would like to have extra Foxtel outlets installed in additional rooms, or stream the channels from your current Foxtel box into every room in your house, we have a solution to suit.
If you are searching for a company that offers Foxtel installations and repairs in Perth, we are available 7 days a week and who you talk to on the phone does your work. We can provide you with a convenient, hassle-free service at very affordable rates, and customer satisfaction is our number one priority.
Recent Projects
22 Apartment Complex in Maylands


9 Unit Complex in North Perth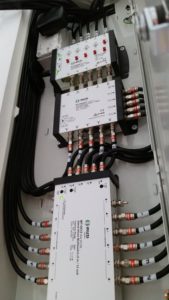 22 Level Highrise – Perth CBD


11 Unit Apartment complex – Mount Lawley

Call us on 0423 919 037 for more information or to book an installation or contact us below